Hand Made Corned Beef
McCartney's have become famous for their take on an product that most people remember from their childhood - Our Hand Made Corned Beef.
In 2011 it was awarded Best Speciality from Northern Ireland & Great Taste Awards Supreme Champion defeating close to 7500 fine food entries. In 2012 it again acheived a 3 Star Gold Award and was also named as one of the Top 50 Foods in Britain. We are truly delighted to have achieved such a prestigious and well respected rewards and would like to thank our Staff for their continued hard work and all our Customers for their support.
We have been making our real hand made corned beef since 2007, the idea coming from an old recipe book belonging to George's Grandfather. Originally it was sold alongside a tinned variety that you would find on sale in most delis, but we soon had to stop selling the bought in one as our customers wouldn't go back to eating it after tasting ours! This exceptional product has a fantastic flavour and just the right balance of salt and has already gained quite a following by word of mouth alone.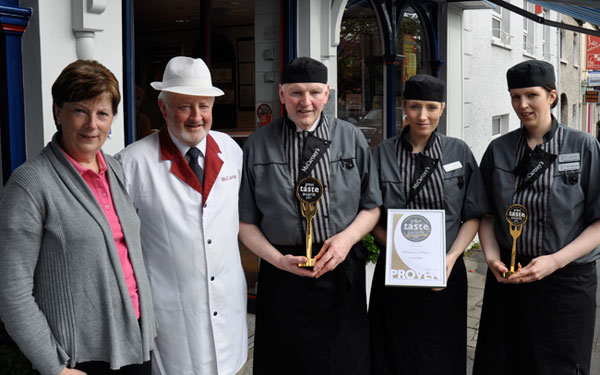 Quote - John & Sally McKenna - Bridgestone Irish Food Guide 2007 
There is only so much you can invent so sometimes you have to go back in time to find new foods said George McCartney about the new range of cuts and cures whos inspiration has been taken from an old book belonging to George's Grand Father.
Well if going back in time means making real corned beef which is as glorious as McCartney's version the sooner we all go back to go forward the better. This corned beef is a star!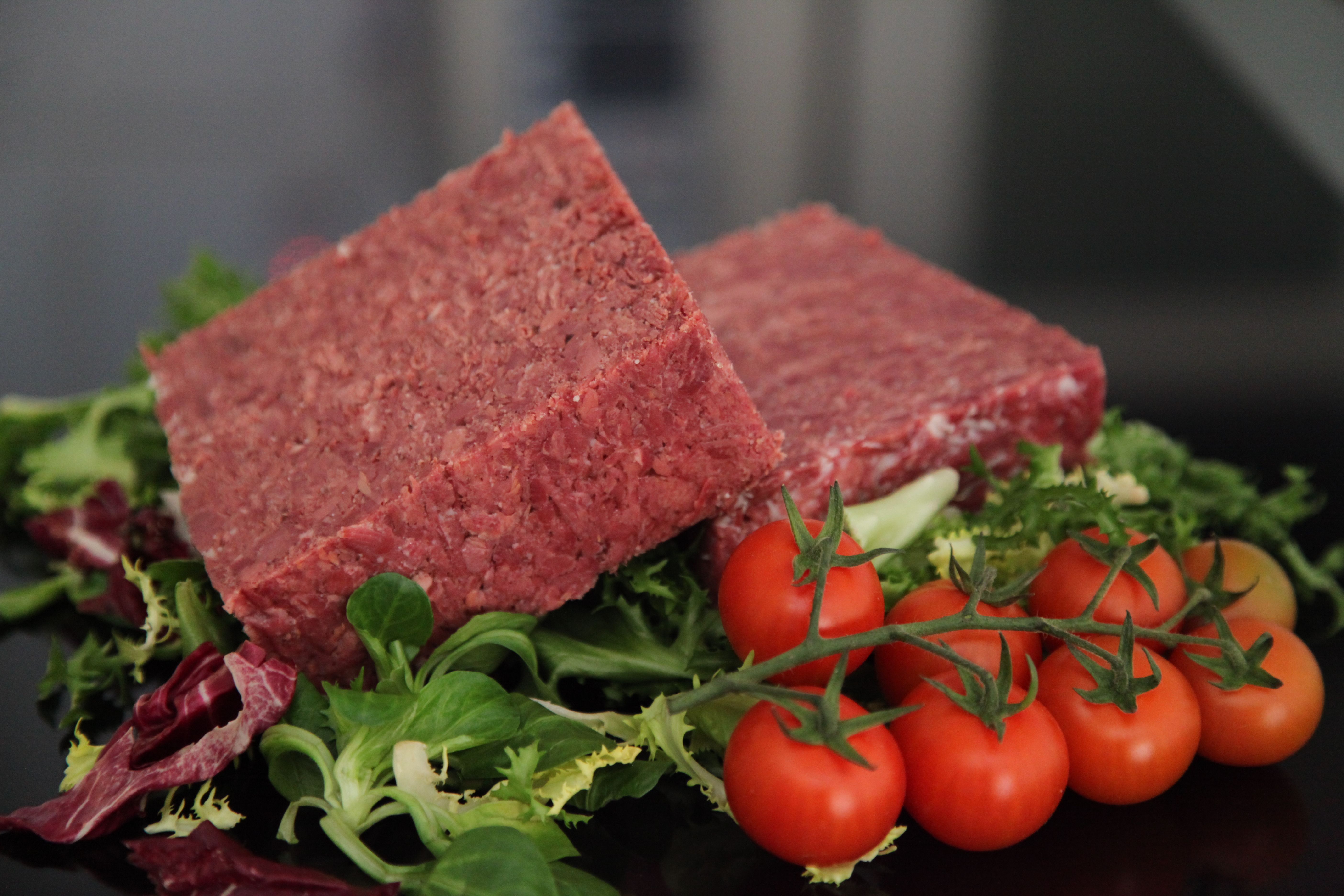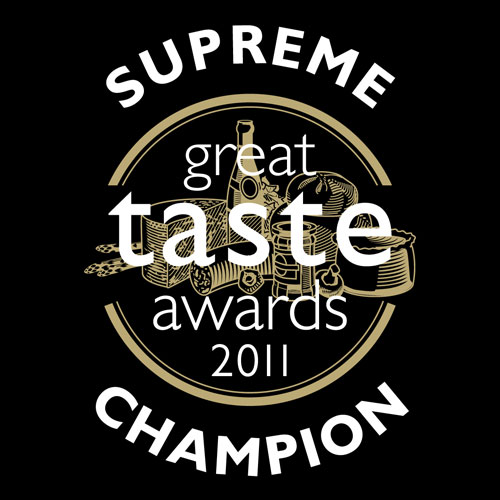 Hand made using a traditional meat press the corned beef takes a great deal of time to make daily, time which we are happy to invest to bring you such a unique product. Made using the finest dry aged locally reared beef and natural gelatine it is not possible to make by machine as all the fat and connective tissue needs to be carefully removed by hand.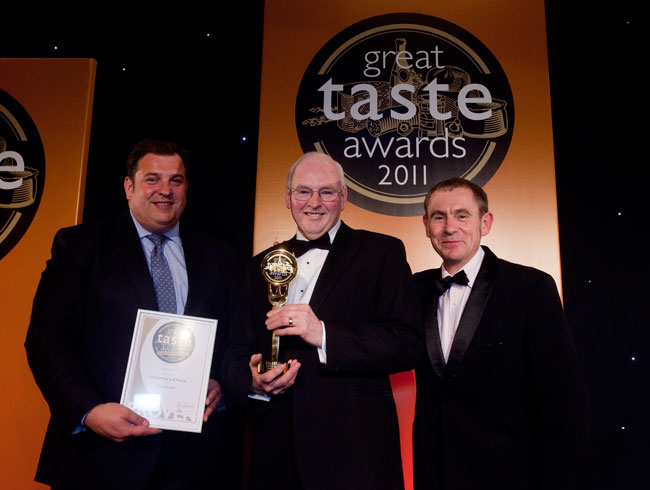 If you were looking for a revolutionary new product to try to win the most prestigious food award in the UK, corned beef would not be a likely choice.
But McCartneys in the picturesque Co. Down village of Moira reinvented the corned beef recipe penned by George McCartney's grandfather a century ago, to win the UK Great Taste Award  from over 7000 original fine food entries. This is the first time that a Northern Ireland company has won this award. 
George McCartneys first attempt at making the corned beef was a resounding success so fine tuning was never an option. His customers stopped buying the normal tinned corned beef that most shops sell today and insisted on having the traditional recipe.  They told others and like Topsy – it grew and grew. 
His daughters, Judith and Sarah, took the corned beef to the National Butchers Fair at Newbury and the judges gave it 100 marks out of 100 – they just simply could not fault it on any count. This encouraged the family to enter the UK Great Taste Awards and at a glittering ceremony in the Royal Garden Hotel, Kensington, London on Monday evening, attended by leading chefs, food writers, top retailers and the very best food producers throughout the UK, the corned beef from McCartneys of Moira was declared the UK Great Taste of the Year winner.
However the success is not without its trials. The traditional presses used for making corned beef are no longer available and McCartneys were trying to match demand with two old presses which have been in the shop for generations. Eventually George has found someone to custom manufacture presses for him and judging by the reaction from the audience at the Great Taste Awards he might be as well to order a few more.
George, who runs the business with his brother, Gordon and daughters, Judith and Sarah said " This is a product that is hand made and is very time consuming both to make and to cure and press.  All the fat has to be meticulously removed and the beef is dry cured, weighed into the presses and cooked long and slow with natural gelatine." 
Daughter, Judith added " When we develop new products you find that there is often an age group that finds each one most appealing but I was astounded at the reaction -  young and old alike craved our corned beef."
One elderly lady lady said "I am old enough to remember the tinned bully beef or corned beef we got during the war so was not expecting a product like this – it is delicious"  Meantime younger customers pile it into sandwiches and salads for lunch. 
This would be a wonderfully high note for George McCartney to retire on, but no way. He said " This is my 47th year in the business and I have no notion of retiring. There are lots more recipes, cuts and cures in Grandpa's old book so watch his space" 
A glance at the 1901 census shows that in that year George's grandfather was 7 years of age, his great grandfather was 48 and his great great grandfather was 77 years old and still working as a butcher in his shop – obviously George is going to follow that tradition!  In those days the cattle were killed out the back of the shop and customers came with a tin can to purchase the meat since there was no wrapping facility. The McCartney business has witnessed six generations who have been over 140 years in the butchery business.
It is fascinating to see how technology and tradition have gone hand in hand. While the owners can access the 16 monitors in the shop from their mobile phones wherever they are and have the technology to check product yields, profits, recipes etc at a press of a computer key, nothing has replaced quality food and personal service.
Future plans include expansion of their business by building a new shop next door where they will have kitchens, cold rooms a coffee shop and a dedicated delicatessen.
So what is the secret for years and years of success? George McCartney explained " Quality meat and ingredients are the starting point. We know the source of our meat and the names of the farmers who supply each week are displayed in the shop. To maintain that quality the meat must be handled properly and we deal with the smaller  niche specialists rather than volume traders. After that you must consider hygiene and health matters and finally you tailor your products to suit your customer base and give them personal attention and service. In this business the customer is king"
George explained that small shops often complain about the large multiples moving in but he advises " Use them to your advantage. These shopping outlets bring new people into the area. Be ready for them, assess their tastes and needs and cater for them - offer them a unique shopping experience"
Article by Doris Leeman